Realizada por Rafael del Rey , director general del OeMv, en el Parlamento Europeo el pasado 26 de febrero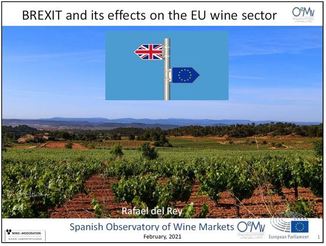 Thanks to the invitation of the Intergroup Wines & Spirits of the European Parliament, the OeMv had the opportunity on February 26th to present some figures and comments on the recent evolution of the UK wine market after BREXIT.
As it may be seen in the attached document, the UK wine market imported 3.8 billion Euros and close to 1.5 billion litres of wine in 2020, with almost 65% of it coming from the European Union. But both, the importance of UK as a world wine market and the share of the EU as its major supplier have been decreasing in recent years. Not to forget the key role of the UK also as a major wine trader.
However, actual figures show that neither COVID-19 nor the uncertainty created by BREXIT have heavily damaged imports of wine into the UK. Actually, after suffering the lockdown in spring 2020, a strong recovery of wine imports is shown in the second semester.
What is, however, changing quite dramatically is the way UK makes its imports of wine. They are increasingly coming from the Americas and the Pacific (Australia and New Zealand) and increasingly in bulk rather than bottled.
BREXIT? COVID-19?, Exchange rates? Commercial trends? They are all key factors that influence wine imports in the British market. So far, after just two months of actual exit from the EU, no major damaged has been recorded, although bureaucratic and potential logistic problems may arise in the near future, specially if a paper certificate is required after July this year.
What really matters is how competitive will the EU wines remain in the UK market in the coming years. Competition will increase as a result of BREXIT, but EU wines have key assets to face it.