One of the recent presentations of the OeMv at the Geisenheim University in April this year, showed the main characteristics and evolution of international trade of wines in bulk.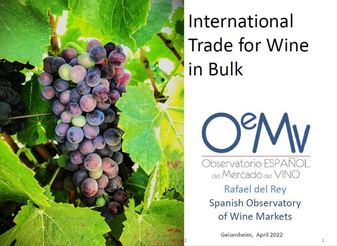 In general terms, shipments on bulk suffered less than other wine categories during the pandemic in 2020, while the recovery the year after has also been less strong and has only taken place in volume. A 4.8% increase in world exports of wine in bulk during 2021 led this category to 36.2 million hectolitres. However, lower average prices forced a decline in total revenues of 4.7% from 2.6 to 2.48 billion Euros.
This evolution clearly differs from other wine categories, like sparkling or bottled wines, showing very different drivers affecting each of them. Whereas bottled wines – either fortified, sparkling or still – are directly affected by the evolution of final consumption, wines in bulk are also driven by the size of each producer's harvest every year and the amount of their inventories. While bottle wines show a long-run trend of increasing average prices – premiumisation – wines in bulk remain very stable around an average world price of exports of 0.80 Euros per litre.
Adjuntamos (i) NOTA INFORMATIVA y (ii) PRESENTACIÓN OeMv