Realizada durante las sesiones de trabajo de expertos de la OIV, París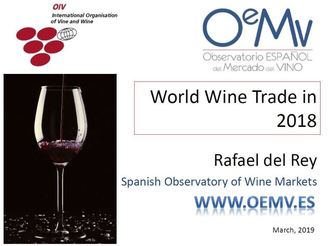 ABSTRACT presentation Rafael del Rey on
World Wine Trade in 2018
'Reduced world inventories of wine, derived from a small crop in the Northern Hemisphere at the end of 2017, created some expected effects as well as some unexpected but very interesting figures that deserve detailed analysis.
Among the former, less available wine generated small decline in world exports in volume (-3.2%), together with high increase of average prices (+5%), that provoked good increase in revenues (+1.7%), particularly in bulk wines. As regards to categories, sparkling kept on growing as it has done for the last years at relatively more popular prices. Among non-sparkling wines, however, bulk volume decreased relatively less than bottled (-3.6% versus -3.9%), following a trend for higher market share of bulk wines in world trade. This trend was significant this year in the cases of US and New Zealand's wines worldwide and specially to the UK market, where large bottling plants are increasing their businesses for both domestic and also international distribution. Unexpectedly, UK has become this year the 11th largest world exporter in euros, overpassing South Africa and Argentina.
The other unexpected effect of this special year for wine trade has been the increase of imports by Italy, particularly from Spain, despite much higher prices, which may be interpreted as the will to maintain their commercial links even at higher supply prices.
It may finally be expected that 2019 will show exactly the opposite trends: following a record high production in the Northern Hemisphere, trade in volume will increase this year at lower prices, damaging or not world revenues depending on the stability of world demand for wine, which seems to be softening particularly in China and the US'.
Presentación realizada por Rafael del Rey, director general del Observatorio Español del Mercado del Vino (OeMv), en el marco de la celebración de las sesiones de trabajo de expertos mundiales del sector del vino, organizadas un año más por la Organización Internacional de la Viña y el Vino (OIV) en París. Analiza la situación actual del comercio mundial de vino y sus perspectivas de futuro.