COVID19 effects on world wine trade, particularly in the bulk market
Conferencia de Rafael del Rey, director del OeMv, en la WBWE Ámsterdam 2021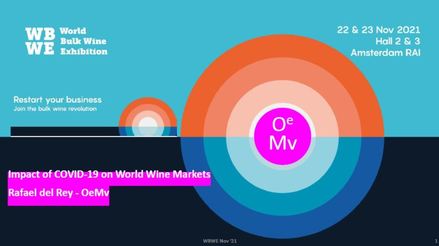 During the World Bulk Wine Exhibition, that took place in Amsterdam last November, the OeMv (Spanish Observatory of Wine Markets) presented the analysis and key numbers of wine evolution during and after the pandemic. Rafael del Rey, general Manager at the OeMv, showed the enormous change than COVID19 provoked in wine exports after February 2020, although more in value than in volume and more for bottled wines than for bulk. The presentation gives details of how different categories of wine were affected, and how different producers evolved during the last two years, including most recent months of clear recovery.
As regards to the wine bulk market, Del Rey differentiated wines sold at premium prices to final consumers from those shipped to other wine producers and exporters. The former are more dependant on the evolution of wine consumption in the receiving country and have therefor being more affected by the pandemic, whereas the latter depend more on the size of wine production in each country.
The presentation is in English and can be found in the following LINK.